Dental Services in Longwood, FL
---
Porcelain Veneers
A veneer is a thin shell of porcelain or plastic that is bonded to a tooth to improve its color and shape. A veneer generally covers only the front and top of a tooth. Veneers can be used to close spaces between teeth, lengthen small or misshapen teeth, or whiten stained or dark teeth. When teeth are chipped or beginning to wear, veneers can protect them from damage and restore their original appearance.
Dental Implants are small prosthetic posts that are placed into the bone of the upper or lower jaw. They act as replacements for the root portion of lost natural teeth and also serve as an anchor for replacement teeth. Dental implants look and feel exactly like natural teeth – in fact, no-one will be able to tell the difference. They stay permanently in the mouth and are never removed. Dental implants are appropriate for almost anyone who is currently missing teeth or is at risk of losing teeth. Dental implants can give back patients their confident smile. The benefits include improved appearance, speech and comfort. Also chewing is improved.
Bleaching and Teeth Whitening
One of the easiest ways to brighten your smile is with professional whitening. A recent survey said that over 30% of people have tried at least one of the many offerings that the drugstore has available. But the drugstore's strips and gels are no match for the professional results you get with Dr. Freyman. One hour ZOOM whitening (as seen in "Extreme Makeover" television series) is available with Dr. Freyman, while whitening using customized trays is also available at an affordable fee. Professional whitening with Dr. Freyman has a high success rate and lasts longer than the over-the-counter brands.
Invisalign the Invisible way to Straighten your Teeth
Crooked teeth can lead to a variety of problems from plaque buildup to wear and tear. Invisalign allows us to straighten your teeth without using wires and brackets of traditional braces. Clear, removable aligners gradually reposition teeth which is more visually appealing than braces. You can remove them for easy cleaning after eating. The aligners are comfortable and smooth and won't irritate your gums, cheek or tongue. Any allergic reactions to metal is eliminated.
Bonding and Tooth Colored Fillings
With bonding, we can close spaces between teeth, lengthen small or misshapen teeth, or whiten stained or dark teeth. We can shape and color a single tooth, or improve your entire smile. When teeth are chipped or beginning to wear bonding can protect them from damage and restore their original looks.
Gum-Lift
We all admire big beautiful pearly-whites, but a lot of people have to settle for small ones. Or do they? Dr. Freyman can lift the gum line and reduce the amount of gums that are shown when you smile. This will reveal more of your smile that is hiding behind your gums. You'll smile bigger and with more self-confidence knowing people are noticing your beautiful teeth instead of your gums.
Reshaping of Teeth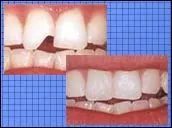 Teeth contouring and reshaping corrects crooked, chipped and overlapping teeth. Spacing issues and pointy teeth can also be remedied by this process. Excessive parts of the teeth are removed and a laminate is used to fill in the areas of the teeth thus giving them a recognizable structure. This is referred to as tooth sculpting and it's easy to see the resemblance. The process willround out pointy teeth, reduce the length of lower teeth and reduce the width of teeth that overlap others. The process results in smoother and more evenly spaced teeth.
Porcelain Inlays/Onlays
Porcelain Inlays and Onlays are porcelain restorations which provide greater support for teeth than directly placed "fillings". Porcelain inlays make for stronger restorations because these fillings bond to the walls of the tooth, whereas the old silver fillings are condensed into the tooth, thus making it weaker. The inlays are cemented in place and help hold the remaining natural tooth structure together. Also, because they are fabricated in a lab to a model of the tooth, inaccuracies in materials are taken into account for better fitting and longer lasting restoration results.
All Porcelain Crowns
Crowns are used when simply filling a tooth would leave it weak and vulnerable to cracking, or when making cosmetic improvements to the teeth is the goal. It surrounds the tooth, giving it strength and providing a strong, durable biting surface. Crowns are often used when large fillings wear out, when a tooth cracks, when a cavity is especially large, and after a root canal procedure. A filling does not strengthen a tooth, and if there is not enough tooth structure remaining, the tooth can crack or break. Filling a large cavity may leave too little tooth structure to provide enough support. A root canal procedure removes a great deal of material from the center of the tooth. This leaves the tooth weak and vulnerable to failure. A crown surrounds the tooth, permanently stabilizing and strengthening the tooth. With all-porcelain crowns, the result is a natural look without a base-metal line at the gumline.
Fixed Bridges
A bridge is a dental appliance that replaces one or more natural missing teeth thereby "bridging" the space between two teeth. Fixed bridges are cemented into place on the surrounding teeth on either side of the space or "span". Unlike removable partial dentures, fixed bridges cannot be taken out of the mouth by the patient. A bridge is the most natural choice to fill the space in your mouth left by missing teeth. If left unfilled, this space can cause the surrounding teeth to drift out of position and can cause teeth and gums to become more susceptible to tooth decay and gum disease that can cause further tooth loss. Fixed bridges not only correct an altered bite, improve your chewing ability and speech, but they also safeguard your appearance by preventing the collapse of your facial features that can cause premature wrinkles and age lines.
Mini-implants are created to dramatically improve the comfort and fit of dentures for those patients wearing dentures, the mini-implant is happily 50% less expensive than conventional implants. Placed in a one-hour visit using local anesthesia, the mini-implant is ready for immediate use and helps dentures fit tighter and become more stable by the time you leave the office.
Non-Surgical Gum Treatment
Periodontal (gum) disease is a condition in which bacteria attack the gum and bone tissues that surround and support teeth. It is an infection that destroys the gums and bone and can result in tooth loss. The bacteria in plaque create toxins that irritate the gums causing them to become red and swollen. The gums will bleed easily during brushing and flossing. If not removed, the plaque will eventually harden to form calculus (tartar). The gums become even more inflamed. The toxins will eventually destroy the gum tissue attachment to the tooth forming pockets between the tooth and gums. Eventually, the bone that supports the teeth is destroyed. Treatment begins with scaling to remove plaque and tartar that is below the gumline. The area is made numb by the use of a strong local anesthetic. The surfaces are then smoothed or planned so the gum tissue can reattach to the tooth.
Custom Dental Appliances for snoring, night grinding and TMJ treatment
People who grind their teeth at night with 7-10 times more force that during the day.
Night Guards for TMJ
Night Guards for Night-Time Tooth Grinding and Clenching
Night Guards prevent worn teeth from nighttime tooth grinding and clenching from stress. Many people suffer from tender or painful jaw joints and muscles due to clenching and grinding their teeth, especially while sleeping. A comfortable appliance can be worn to protect the teeth and reduce bone loss and TMJ dysfunction.
Anti-Snoring Appliance
An Anti-Snoring Appliance is a comfortable oral appliance that stops snoring during sleep. Snoring occurs when there is constriction at the back of the throat causing restriction in airflow and therefore vibration resulting in noise. People who snore often feel sleepy the next morning due to insufficient oxygen reaching the brains. People will feel tired during the day, irritable, have poor memory and headaches. The noise from snoring causes their spouse to have difficulty sleeping beside them. Some people wake up with a dry and painful throat the next morning. This appliance allows the upper airway to remain open and allows the patient to breathe more naturally while sleeping.
No-Drill Dentistry
No Drill Dentistry technology allows dentists to remove cavities virtually painlessly. Because there is no drilling, rarely is there a need for anesthetic injection! "Air Abrasion" utilizes a high-speed stream of air with a superfine powder to painlessly spray away tooth decay. Air abrasion systems produce no vibration and no heat from friction. The technology can't harm soft mouth tissue and they operate very quietly. Because air abrasion cuts tooth surfaces with the utmost precision, it removes less tooth than the drill and it reduces the risk of enamel micro-fracturing. In other words, the advantages are more of your tooth is preserved, there is little or no discomfort, no anesthetic numbness is needed, and the treatment time is usually shorter.
Inflamed or infected pulp most often causes a toothache. To relieve the pain and prevent further complications, the tooth may be saved by root canal treatment. A root canal cleans, shapes and seals the space from tissue fluids where bacterial infection can live. Once the root canal treatment is performed, a crown is placed over the tooth to protect it.
Extractions
We always try to save a tooth rather than do an extraction. However, if a tooth cannot be restored, as a last resort, we would extract the tooth. Dr. Freyman will make sure the tooth is thoroughly numb for your comfort. Dr. Freyman is experienced in extracting simple as well as surgical extractions, including most impacted wisdom teeth.